Open Access

Subscription or Fee Access
A Review on Pharmacognostic Profile of Ajuga reptans
Abstract
The present review was aimed to collect the pharmacognostic information about the Ajuga reptans, a flowering plant species of Lamiaceae family. The generic Greek name 'Ajuga' means "without yolk" and species 'reptans' means "creeping". It is known by alternative common names including bugleweed, common bugle and carpetweed. Bugleweed is a native of Europe and widely distributed throughout New Zealand, North America and Venezuela. It is cultivated as an ornamental plant in gardens that grows well in moist organic rich areas. The plant propagates with the help of seeds, stolons or runners. This plant was traditionally known for treating a number of ailments such as haemorrhage, inflammation, wound healing, cough and other respiratory disorders. Apart from the ethnopharmacological uses, it also has importance in livestock and wildlife—the flowers of bugleweed attract butterflies and insects for pollination. A number of chemical constituents have been isolated from A. reptans that possess a wide variety of therapeutic actions—a phenylpropanoid glycoside, 'Teupolioside', is beneficial in the treatment of inflammatory bowel syndrome; iridoid glycoside '8-O-acetyl harpagide' have antifungal activity and 'harpagide' cause vasoconstriction. Various studies indicated that the herb A. reptans possess well known other pharmacological activities such as antibacterial, antimycotic, antiasthmatic, hepatoprotective, antineoplastic activities and is also effective in the treatment of alopecia. The review can serve as a valuable source of information and provide suitable parameters for identification of this plant species as well as various reported biological studies are also encouraging to work out more on this herb to reveal other potential medicinal effects for future investigation.
Graphical Representation of Abstract.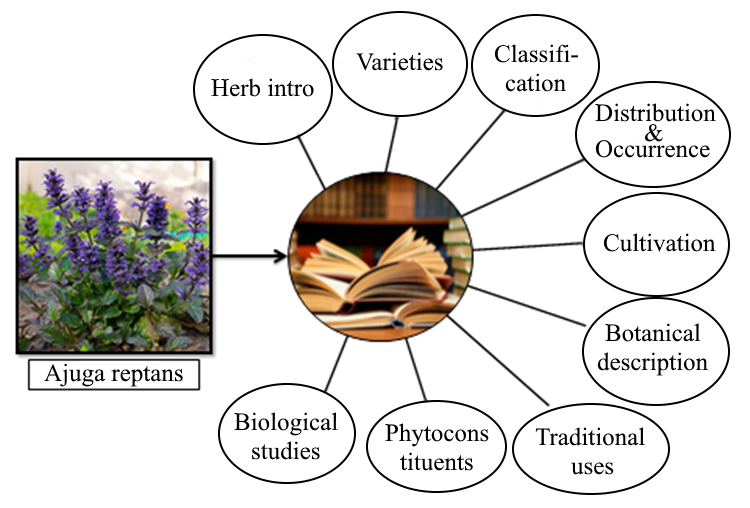 Keywords: Ajuga reptans, ethnopharmacology, glycoside, ornamental, pharmacognostic
Cite this Article
Shivani Rana, Narinderpal Kaur, Poonam Devi. A Review on Pharmacognostic Profile of Ajuga reptans. Research & Reviews: A Journal of Pharmacognosy. 2020; 7(1): 9–18p.
Full Text:
PDF

Refbacks
There are currently no refbacks.
Copyright (c) 2020 Research & Reviews A Journal of Pharmacognosy